'ʟᴏᴏᴋ ᴀᴛ ɪᴛ ғʟʏ!"—ɴᴀᴠʏ ᴘɪʟᴏᴛs ʀᴇᴘᴏʀᴛ ᴅᴀɪʟʏ ᴜғᴏs ᴏᴠᴇʀ ᴇᴀsᴛ ᴄᴏᴀsᴛ ғᴏʀ ᴀ ʏᴇᴀʀ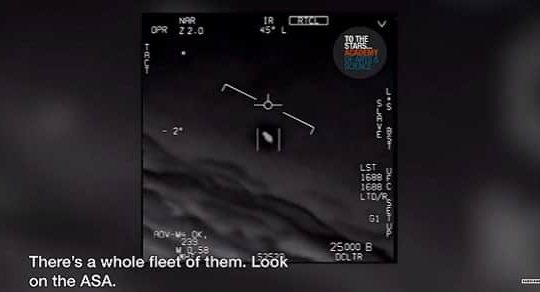 Many Navy Pilots are telling stories of multiple UFO sightings as incidents increase. They report feeling stunned, shocked, and spooked but what they have seen. One of the latest are statements made by Lt. Ryan Graves and others about almost daily sightings over East Coast between summer of 2014 and March 2015. The UFOs were observed while in training maneuvers from Virginia to Florida.
Reports went of these UFOs went to Navy superiors, then Congress and the Pentagon, and they are still left unexplained.
Almost Daily UFO Sightings
These UFO sightings are of strange, fast-moving objects with no visible engine or exhaust fumes. They were reaching 30,000 feet on the air.
"These things would be out there all day. Keeping an aircraft in the air requires a significant amount of energy. With the speeds we observed, 12 hours in the air is 11 hours longer than we'd expect," Graves told The New York Times.
Graves even had a near collision with one of the UFOs in 2014, which was in one of the reports. One of other pilots told him about a similar incident with a "look of shock on his face."
"I almost hit one of those things," he was told. This one was near Virginia Beach and looked like a sphere encasing a cube.
There came a theory about all of these objects being a part of a classified, super drone program, but Graves and other pilots are convinced that is not the case.
Graves later appeared in a History channel series "Unidentified: Inside America's U.F.O. Investigation" to talk about these experiences.
Some incidents were videotaped. There is a 2015 footage of an object over the ocean off the coast of Jacksonville, Florida, and the pilots yelling in disbelief: "Wow, what is that, man? Look at it fly!"
The object is moving against the wind, and is tilting.
The same pilots talked about a whole fleet of them, but no footage or photos of the fleet was released.