ᴛʜɪs ᴍᴏᴠɪᴇ ᴄʟᴀɪᴍs ᴛᴏ ʜᴀᴠᴇ ʀᴇᴀʟ ᴀʟɪᴇɴ ғᴏᴏᴛᴀɢᴇ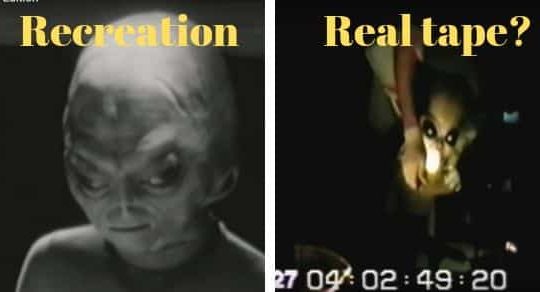 In 1997 came out a movie that claims to have real footage of an alien interview from Area 51.
A person known as Victor owned the mysterious tape allegedly retrieved from Area 51. He was hiding his identity for safety reasons. The movie paints him as someone who smuggled the footage from Area 51 during a data leaking event.
He was interviewed for this documentary, and the alien interview footage was used to make the movie along with other human interviews.
The independent company that created the movie is called Rocket Productions, and they no longer exist. Prior to contacting the company, Victor tried to get the footage out on network television but with no success. Rocket production's president Tom Coleman was also reluctant at first, but later agreed.
The alien interview footage was first shown to ufologists to hear their opinions, including Sean David Morton.
Both Morton and Victor were interviewed by the Coast to Coast AM radio show by the host Art Bell, which is how the knowledge about the existence of the video spread.