ᴄʀᴏᴘ ᴄɪʀᴄʟᴇs ᴀʀᴇ ʙʟᴜᴇᴘʀɪɴᴛs ғᴏʀ ᴜғᴏ's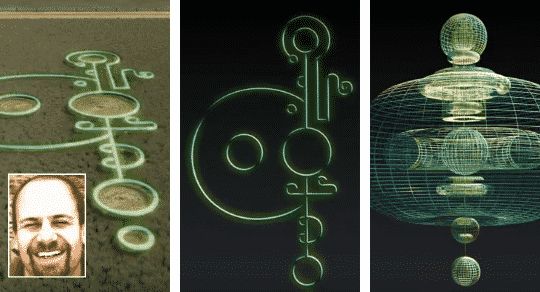 There have been more than 12,000 crop circles that appeared around the world. The majority of scientists write them off as pranks afraid to be associated with studying a controversial subject. Yet, even they admit that many crop circles are not explained. Crop circle enthusiasts are still looking for answers, and one created an experiment unlike any other. First-time filmmaker Charles Maxwell theorizes that crop circle images are blueprints for building UFOs; the theory that he tests in his documentary "A Field Full of Secrets."
Crop Circle History
Crop circles started heavily appearing in the English countryside in the 1980s and 1990s; they appear to this day. Some are elaborate and represent mathematical equations. In 2008, for example, one crop circle in England represented the first ten digits of Pi; it was divided into 10 invisible segments like a pizza pie.
It is no argument that many crop circles are made by people. In 1991, two men Doug Bower and David Chorley of England admitted to creating 250 of them but of course there have been thousands more. Other artists interested in the topic may have taken it as an intriguing challenge to make one. Some do not even care about making circles, they just want to create art.
Firefox symbol was created in a field by the Oregon State University Linux Users group in 2006, celebrating a popular web browser. Corn mazes remain popular during the fall. One German town created Asterix and Obelix characters from French comic books in a field of corn in 2009.
Yet, many crop circles remain unexplained. Many crop circles show no signs of human contact. The most bizarre trait of a crop circle is that the crops are not broken when laid down.
Australian Independent Crop Circle Research Megan Heazlewood said that crop circles can appear on many different crop types from silverbeet to rice paddies. She is most intrigued by canola field crop circles because canola stalks snap like celery at 45 degrees, yet they did not break when bent 90 degrees in crop circles.
A reporter from The Conversation also points out that most hoaxers claiming to have created crop circles are unable to reproduce the results or ignore most questions when requested proof of how they did it with boards and rope (the method hoaxers use).
In 1991 a biophysicist Dr. William C. Levengood studying the stalks from the crop circles and found anomalies in the first node of each plant that can only be explained by either electromagnetic or microwave energy exposure from a technology that humanity does to possess (at least to the public's knowledge).
In 1992, Michael Chorost led an investigation named "Project Agnus" that also found anomalies in the soil of the crops.
All of which still points to potential involvement of not Earthly forces in making the crop circles.
Crop Circle In An Early Newspaper?