ᴛʜᴇ ʙɪᴢᴀʀʀᴇ "ᴍᴀʀғᴀ ʟɪɢʜᴛs" ᴏғ ᴛᴇxᴀs: ᴘᴇʀʜᴀᴘs ᴛʜᴇ ᴍᴏsᴛ ʜᴀᴜɴᴛɪɴɢ ᴀɴᴅ ᴍʏsᴛɪғʏɪɴɢ ᴜғᴏ ᴘʜᴇɴᴏᴍᴇɴᴏɴ ᴇᴠᴇʀ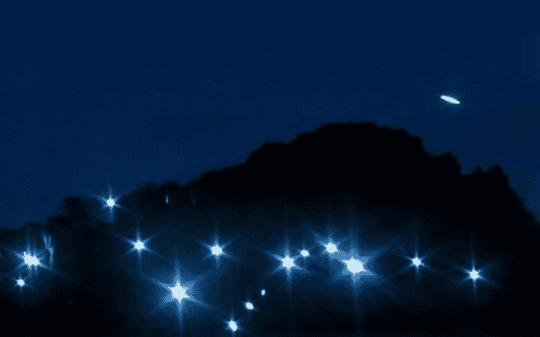 While there are plenty of singular UFO sightings that have enough witnesses or striking details to make the newspaper healdines in local publications, the most compelling, and haunting, UFO sightings are the ones that happen en masse.
Dozens of witnesses may report seeing the same thing, all across a single area. Military personnel, civilians, amateur sky watching enthusiasts and everyone in between have all been recorded as seeing such "mass sightings" over the years.
Perhaps the most famous of these sightings occurred in Phoenix, Arizona 23 years ago during which thousands of people saw the same eerie cluster of lights in the sky. An explanation still hasn't been released regarding this event, but those who saw it will never forget it, that much is for sure.
The Phoenix sightings are just the tip of the iceberg when it comes to UFO sightings, however.
Perhaps the most interesting of them all are clusters of sightings that have long been forgotten due to a lack of media attention, the remote location of these sightings, or any other number of factors.
Some of these sightings have even continued on a month-to-month, year-to-year and even generation-to-generation basis — and even despite that, a clear answer to what has been occurring has still not been found!
As far as unique mass sightings go, there are perhaps none more interesting than the infamous "Marfa Lights,' or "ghost lights," spotted in Texas that have mystified local UFO and paranormal enthusiasts for generations.
The Renowned Marfa Lights of Texas
Of all the UFO sightings I've witnessed in documentaries over the years, perhaps none stands out more than the Marfa Lights.
These Lights are a bit different from traditional UFO sightings but fascinating nonetheless. They typically appear as mysterious glowing orbs in the desert outside the West Texas town of Marfa, and are varyingly described as white, blue, yellow, red or other colors.
They are oftentimes reported to be the mere size of basketballs, but despite that, they continue to be seen clearly by local residents.
They also are known for dizzying maneuvers in the sky, incapable of traditional aircraft or even many of the UFOs that have been witnessed over the years. The Marfa Lights "hover, merge, twinkle, split into two, flicker, float up into the air or dart quickly" across Mitchell Flat (the area east of the town where they are most commonly reported, according to a report from Livescience.com).
While the lights are commonly seen, there seems to be no way to predict when these lights will come back, or if they even really exist at all.
Perhaps they are a sign of visitors from a parallel dimension?
One thing's for sure…Something is going on, because the lights have been spotted for 135 years in the night's sky, and they have made the town famous for UFO watchers across the country.
You can also check out a sighting video from one curious onlooker below: