ʙʀᴇᴀᴋɪɴɢ: ᴜғᴏ ғᴀʟʟɪɴɢ ɪɴᴛᴏ ᴏᴄᴇᴀɴ sᴘᴀʀᴋs 𝟿𝟷𝟷 ᴄᴀʟʟs ɪɴ ʜᴀᴡᴀɪɪ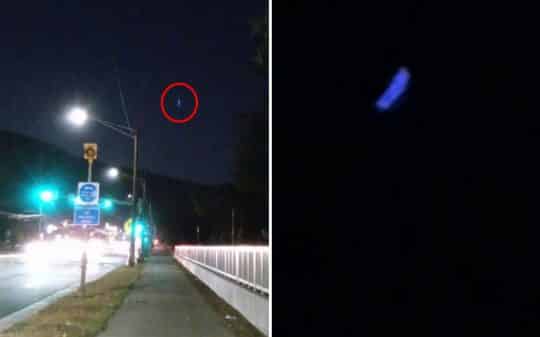 The skies over Hawaii are like something you'd read about in a fairytale but those same fairytale skies just took a turn towards the unknown. Multiple accounts were taken from onlookers who felt they were seeing something strange in the Oahu skies . Residents called 911 after witnessing a mysterious blue object moving over Oahu. The large, glowing mass appeared around 8:30 p.m. and was caught on video as it quietly moved through the sky. One of the witnesses was a woman named Moriah, who told a local news crew (Hawaii News Now) that she isn't a believer in UFOs, but was so baffled by what she saw that she and her family decided to follow it.
Quick Overview:
An unidentified flying object spotted in the evening sky over Leeward Oahu prompted witnesses to call 911 on Tuesday.
The sighting happened about 8:30 p.m.
There are multiple videos of what appears to be a glowing' oblong mass — both in the sky and in the water.
The Federal Aviation Administration say there were no aircraft incidents or accidents in this area at the time. But multiple witnesses reported seeing a large blue object fall out of the sky and into the ocean.
In a one video a woman can be heard saying, "Something is in the sky. What is that?"
Misitina Sape told Hawaii News Now she captured the image at 8:26 p.m. near Haleakala Avenue in Nanakuli.
Not long after, a woman named Moriah spotted what looked like the same object passing over Princess Kahanu Estates.